Skrabalak Group Research Published in Prestigious "Nature Synthesis" Journal
---
October 5, 2023

Top Row (L to R): Nabojit Kar, Maximilian McCoy, Joshua Wolfe
Bottom Row (L to R): Sandra L. A. Bueno, Ibrahim H. Shafei, Sara E. Skrabalak

The article, "Retrosynthetic design of core-shell nanoparticles for thermal conversion to monodisperse high-entropy alloy nanoparticles" was published in the journal, Nature Synthesis.  This journal focuses on all aspects of synthesis, from making discrete molecules to extended materials, as well as technological innovations leading to significant advances in synthetic methods and processes.

This article reports research on high-entropy alloys from the group led by Professor Sara Skrabalak, with graduate student Nabojit Kar leading the project and supported by undergraduate researchers Maximilian McCoy, Joshua Wolfe, past graduate students Sandra L. A. Bueno, and Ibrahim H. Shafei. Alloys have played a pivotal role in different historical eras, even defining those eras, such as the Bronze Age, because of the technologies and tools enabled by them. Metal alloys are mixtures of two or more metals, with high-entropy alloys (HEAs) being distinguished from conventional alloys on account of their complex compositions which consist of five or more metals. While HEAs have been studied as bulk materials for several decades, only recently have the nanoscale properties of HEAs been studied. Their high configurational entropy surpasses traditional materials, enabling the mixing of diverse elements at the atomic level. Recent breakthroughs have extended HEAs to the nanoscale, with HEA nanoparticles (NPs) showing promise for catalytic applications. However, this interest arose from breakthroughs in synthesis and the potential of nanoscale HEAs to have unique properties for energy applications, but precise synthesis of nanoscale HEAs remains a challenge. The historical, current, and future utilities of alloys are depicted herein.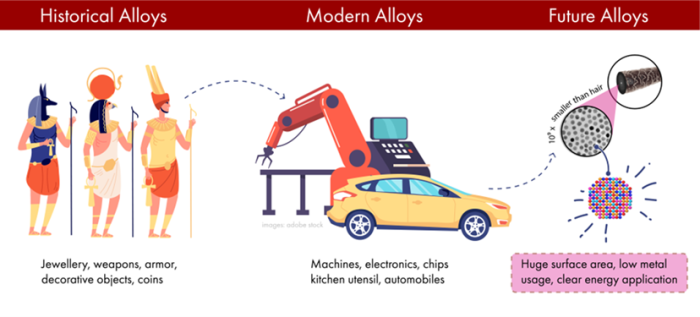 Alloys: from historical to future applications.
A breakthrough in the precise synthesis of HEA nanoparticles (NPs) – particles with at least one dimension less than 100 nanometers – is reported in the Nature Synthesis article, where the team developed retrosynthetic principles for their synthesis. "Our work draws inspiration from retrosynthetic analysis, a common practice in organic chemistry that involves breaking down target molecules into readily available starting reagents through chemical reactions." Kar, IU 2023 three-minute thesis champion added, "Here, we outline how a target HEA composition can be identified and then synthesized by designing first core–shell NPs with five or more metals, which are then transformed into HEA NPs by heating."  The synthetic steps are shown in the following figure.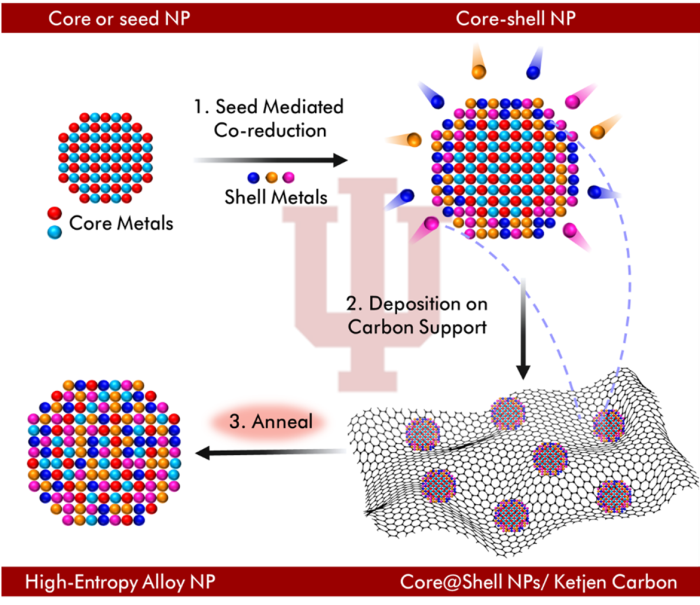 Synthesis of HEA NPs from core-shell NPs.
This synthetic achievement has significant implications. The features of HEA NPs now can be fine-tuned, are compatible with diverse support materials, and offer exciting prospects in catalysis and advanced materials. Ongoing research aims to understand nanoscale mixing behavior and the electrocatalytic properties of the HEA NPs. Kar shared, "In my ongoing Ph.D. research, I'm exploring the mixing properties of the core–shell NPs to understand what intermediates form on their path to being HEA NPs. This insight should allow me to access unique surfaces comprised of many metals for use in catalysis. I am very excited to apply these materials as catalysts in fuel cell applications as next-generation energy technologies."
"Without the help and hard work of undergraduate students and past graduate student colleagues and mentors, this research would not have been possible," said Kar, IU-B 2023 Felix Haurowitz Award winner. The entire research team is featured here. A research briefing is also available and provides more details for a general science audience as well history on how Skrabalak and her research group came to study this new and interesting class of alloys.